Reflection on Nursing Teamwork
Info: 1950 words (8 pages) Reflective Nursing Essay
Published: 12th Feb 2020
Tagged: gibbs reflective cycle
Implementing an effective teamwork skill is essential in nursing. I would be reflecting on the dynamics of my own personal experience on Enquiry Based-Learning, an important element in my programme of study. Nurses are everywhere, working with different professionals to achieve a common outcome that leads toward a patients' wellbeing. For this reasons, my course, in a way focused on enquiry based learning to develop important skills to empower student nurses while in the healthcare sector. Throughout this essay, I would be referring to Gibbs (1998) reflective model to explore how the group worked as well as focusing on my own contribution.
Description
Get Help With Your Reflective Nursing Essay
If you need assistance with writing your reflective nursing essay, our professional reflective nursing essay writing service is here to help!
Find out more
I undertook a group activity section as part of my learning development which is defined as Enquiry Based Learning. A group composed of 5 members to work together as part of a team on a specific task. My group is to work on a case study working together as a group to produce a piece of PowerPoint presentation to present our findings.  Grounded on my understanding, I have identified a group as collective consisting of one or two people with a common interest whereas a group dynamic is a team of people acting interdependently with excellent communication skills, different knowledge and interact with each other regardless of shared responsibilities (George, 1985).  To this end, I would think of my enquiry based-learning group as a task -focused group, as each individual had a delegated task to carryout.  My enquiry based group was selected casually to work together and to share responsibilities individually which means to be able to produce this piece, we would need to communicate frequently with each other by building a significant relationship with the members of the group.
Feelings
Initially I felt confident to be in a smaller group as this gives me the opportunity to communicate in an easy way. however, I got frightened and felt anxious about having to be in a group with people I do know have any kind of a friendly approach with.  Also, I got frightened because, I perceived the group as a task purposed group only. Nevertheless, according to Casey, A. (2011) "Communication is central to human interaction. Without it, people cannot relate to those around them, make their needs and concerns known or make sense of what is happening to them".  to this end, with a smile in my face, I took the initiative to introduce myself and ask the members of my enquiry based learning their names. Tuchman (1965) underlined the importance of team development through four stages. However, forming is the first stage members of a team or group go through before moving unto the next phase.  This is an introductory stage where the group become adapted to each other. During the forming stage, the team members including myself have been very nice to each other but at the same time there are unseen possible conflicts.
Firstly, in the forming stage, we got selected randomly as a group to work together to achieve an outcome to meet a deadline. However, we started to get to know each other, to socialise, by becoming acquainted with each other while talking through the task. We all contributed in splitting the task in semi topics to obtain an outcome easily. Additionally, as a task focused group, we talked about the task and started to delegate each member a task to undergo. At this point, everyone's opinion was valued, we discussed and planned on how to carry out our research and how to present it. Furthermore, in norming stage, we assessed the task as a group and set out the ground rules, boundaries and standards through communication and interaction (Tuchman, 1965). I was able to communicate interactively with the members of my enquiry based learning group and to convey my ideas. I also decided on which part of the argument I was interested in developing research into.  Additionally, everyone conveyed their ideas along with suggestions made by other members.  Consequently as, the group dynamic begins to lose its structure, conflicts emerge.  Which leads to the storming stage as stated by Tuchman (1965).  In this stage, though, there has not be any disagreements we decided to meet outside university to work together, because this is mainly task focused group, we all participated in a positive way.  Consequently, leading to the performing stage where we were able to achieve our goal (Tuchman, 1965).
Evaluation
Positively, even though in the "norming stage" we started to work connectedly and the team performance is elevated thus not as high performing. we all contributed our ideas, discussed about possible meetings, place and the frequency. However, as a member, I was able to establish harmonious relationships with the rest of the group. I wanted the work to be done properly so I maintained a positive relationship throughout the section.  I explored my given topic independently, making sure to keep the interaction between the group going then we met on few occasions to put the work together and to practice on how to present the work.  However, I didn't like the formation of the group because, even though we were good and very task focused, we did not have a specific role to adhere to. Everyone was doing everything and this was very disorganised. There was a point where we kept sending the working to the group and the members making changes independently whereas, as a supportive and interactive team, we could have meet   and discuss around any changes. The reason for this is because, even though we are really interactive wen we see each other, this, however, is different when we send messages around concerning or regarding the presentation. Members do not pay attention to messages.   Consequently as, the group dynamic begins to lose its structure, the group therefore struggles and dysfunctions as a group.
This stage negatively impact on the whole process through a realisation that, we did not really have a lasting group dynamic as members started to create small groups within the group unintentionally because of obvious preferences. They are more interested in getting their work done based on been the best. Personally, when this happened, people stop communicating, message and purpose become unclarified. So, people do things wrongly on their own terms. Relating to this, the group still functions as a group but there is no interaction or relationship based-communication.
Referring to the Mindtools document (Belbin's reflective cycle), when a team is acting at its best, you will usually find that all the members has clear responsibilities.  Belbin (1993) said, Team role is a tendency to behaviour, contribution and interrelation with others. It is a pattern of behaviour that characterizes one person's behaviour in a team process. It is thus, vital to classify the roles members possess to improve the team's effectiveness. Teams having a balance of personality types perform better than those with duplicated personalities (Belbin,1993).
Belbin came up with the roles of individual team members which states that every member is unique and possesses unique behaviour which might affect the performance of the activity. He also used self-perception inventory questionnaire in his research in order to identify team roles and he found nine different roles with unique characteristics. These inclusive;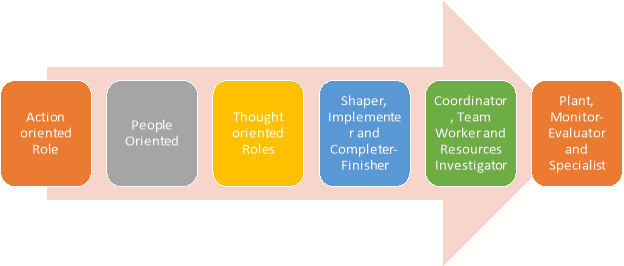 Following Belbin's (1981) individual role in the team, the role that best describes me in the team was Implementers as I am mainly in charge of getting things done by elaborating in a systematic and an organized way on the team's ideas and approaches into reasonable actions and plans. Also, I played the role of Completer-Finisher as I am always anxious about deadlines and want to make sure the work is completed and done before then.  On my personal point of view, I would say our group was acting very close to a team but there is still distance from a high performing team and If I had to change something about it next time, I would ask the lecturers to change the members.
Analysis
Conclusion
In conclusion, reflecting on this account, in a group or teamwork, all members are important. As stated in Tuchman's (1965) reflective model it is important that individuals are delegated a task within in the group to focus on. However, firstly, there was no leadership, according the King's Fund (2015) leadership is a tool to a successful and effective group task. For this reason, there was no formality of order in the group. Everyone was doing everything not sticking to the group dynamics. Secondly, though we were communicating and focusing on the task yet we were somehow disorganised and initial standards was not well observed.  Thirdly, our communication was a task-focused on not based on interrelations because, as soon as we depart from each other there is no more communication Bach (2015). If I have been given the opportunity next time, I would have recommended that the group delegate a leader to oversee the project only this way, would things be well organised and encourage more group meeting and to pay attention to messages thus giving a feedback and discussing it as a group.
Action plan
To encourage the participation and collaboration as a group, I will empower the group to elect a leader who can oversee managing affairs of the group. I would also encourage members to participate in providing feedbacks to any message that is communicate in other to understand what changes might occur.
References:
Bach, s. (2009) communication and interpersonal skills :Learning Matters LTD  available at http://sgh.org.sa/Portals/0/Articles/Communication%20and%20Interpersonal%20Skills%20for%20Nurses.pdf (19/02/17)
Belbin, M. (1993) : Team roles: Mindtools available at mindtools.com/Belbin team roles
Casey, A. (2011) Effective communication: Principle of Nursing Practice E: RCN :v 25 (32) available at https://www2.rcn.org.uk/__data/assets/pdf_file/0005/380795/Nursing_Standard_Principle_E_April11_563KB.pdf (accessed 19/02/17).
George, N. (1985). Importance of teamwork at work. Availablie at http://smallbusiness.chron.com/importance-teamwork-work-11196.html
Gibbs (1998): Reflective cycle : available at mindtools.com/gibbs reflective cycle
Maggs, D. (2015) The King's Fund: Leadership and Leadership Development: London available at https://www.kingsfund.org.uk/sites/files/kf/field/field_publication_file/leadership-leadership-development-health-care-feb-2015.pdf (accessed 19/02/17).
Cite This Work
To export a reference to this article please select a referencing stye below:
Reference Copied to Clipboard.
Reference Copied to Clipboard.
Reference Copied to Clipboard.
Reference Copied to Clipboard.
Reference Copied to Clipboard.
Reference Copied to Clipboard.
Reference Copied to Clipboard.
Content relating to: "gibbs reflective cycle"
Gibbs' Reflective Cycle was developed by Graham Gibbs in 1988 to give structure to learning from experiences. It offers a framework for examining experiences, and given its cyclic nature lends itself particularly well to repeated experiences, allowing you to learn and plan from things that either went well or didn't go well. It covers 6 stages.
Related Articles
DMCA / Removal Request
If you are the original writer of this reflective essay and no longer wish to have your work published on the NursingAnswers.net website then please: